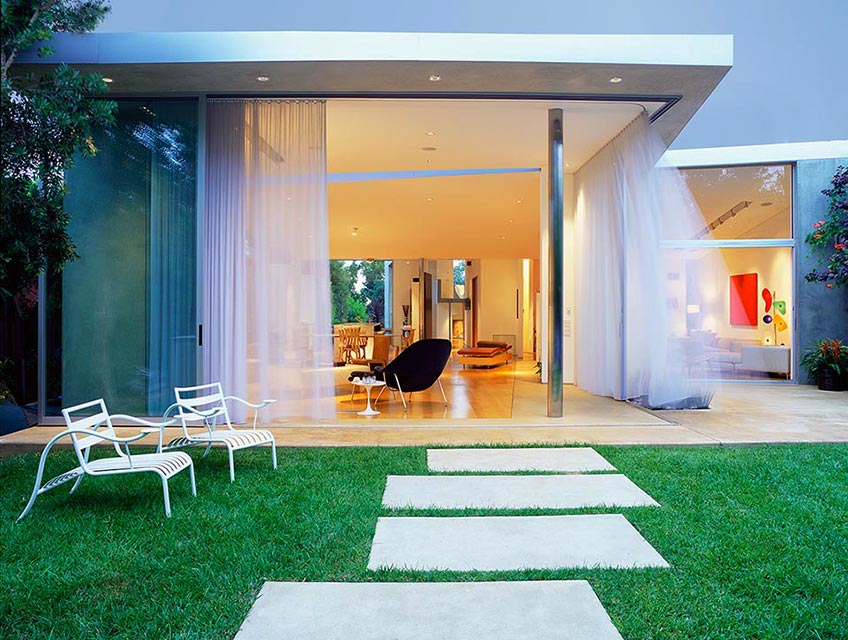 By Nancy Keatinge In News
For 20 years architect Stanley Felderman and designer Nancy Keatinge delighted in their 1920's Santa Monica bungalow and its lush, English­ style garden-a romantic cottage for two . But the arrival of twin daugh­ters, Kate and Sara-now rambunctious 4 1/2 year-olds-meant uproot­ing to a larger family home. The couple, partners in their eponymous design firm and collectors of modern art, initially found a perfectly ser­viceable 2,400-square -foot, four-bedroom 1950's ranch on a 1/4-acre lot in Pacific Palisades .
"I thought I'd just raise the ceilings , which were only 7 or 8 feet high, and put in an lkea kitchen ," recalls Felderman. But Keatinge demurred, recognizing that it made more economic sense to build an entirely new house. "I told Stanley to follow his dream," she says. What Felderman dreamed of was a home in which family life could be enjoyed without constraints or borders.
Felderman started with the idea of a redefined split-level with half-flights up, to the master bedroom, and down, to the twins' bedroom. Soon, the central kitchen he envisioned was integrated into contiguous living and dining areas. Then a den-like zone was added, with plenty of room for a Verner Panton sculptural foam-and-wood Living Tower seating unit, on which the twins would be free to climb. The open plan enables the parents to keep an eye on the kids and allows fluid movement. "We always liked loft living," says the ex-New Yorker. "Then I realized this is a loft."