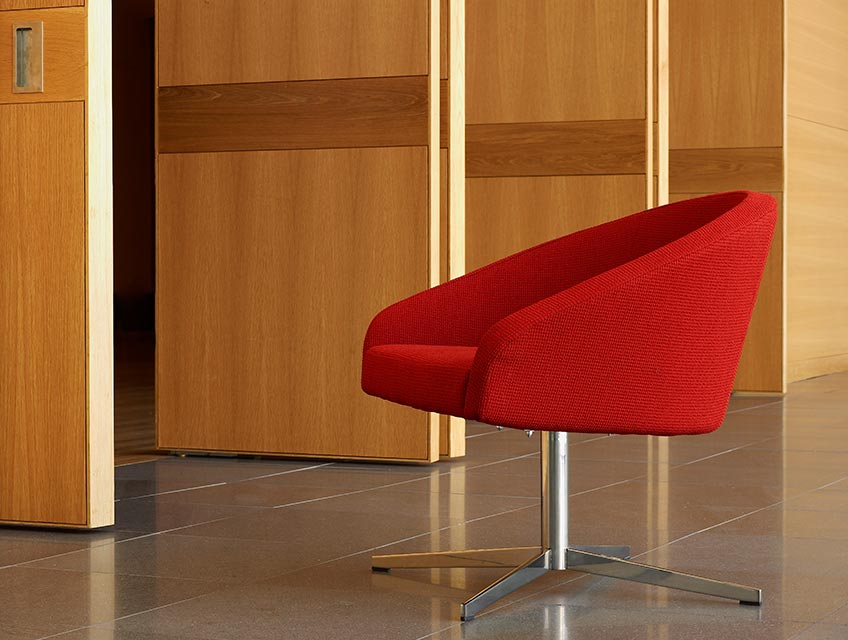 By Nancy Keatinge In News
What does it mean exactly to be an "urban classic?" For me, the term evokes the spacious environs of a luxury Manhattan penthouse or a posh Barcelona loft. A wall of windows is par for the course as well—the requisite vantage to look down on the chaos of the city, which is instantaneously quelled to a pleasing hum courtesy of the pacifying effects of a light and lean ensemble of contemporary furnishings. A good place to start in this formulation would be Haworth's forthcoming Collaborate Collection by architectural firm Felderman Keatinge + Associates.
As of this writing, the pleased exhibit goers at ICFF are getting a big, bold taste of Collaborate in the form of Stanley Felderman and Nancy Keatinge's cherry red chair. Like the proverbial matador's cape, the vibrant upholstery of this preview (the full line is forthcoming in the fall) is sure to tease in the stampeding hordes, each of whom will be pleasantly accommodated as they sample Collaborate's ergonomic seat and spacious curved back, as they swivel easily on its stainless steel center shaft.
Haworth intends Collaborate as hybrid of sorts, a consummately contemporary piece that can cross the office/home divide with impressive aplomb: "Sophisticated and livable… bridging the worlds of residential and commercial design, Collaborate is a powerful statement piece in any setting. Place a roomy lounge chair in the reception area or a slimmer version in offices to ensure a strong, stylish first impression."