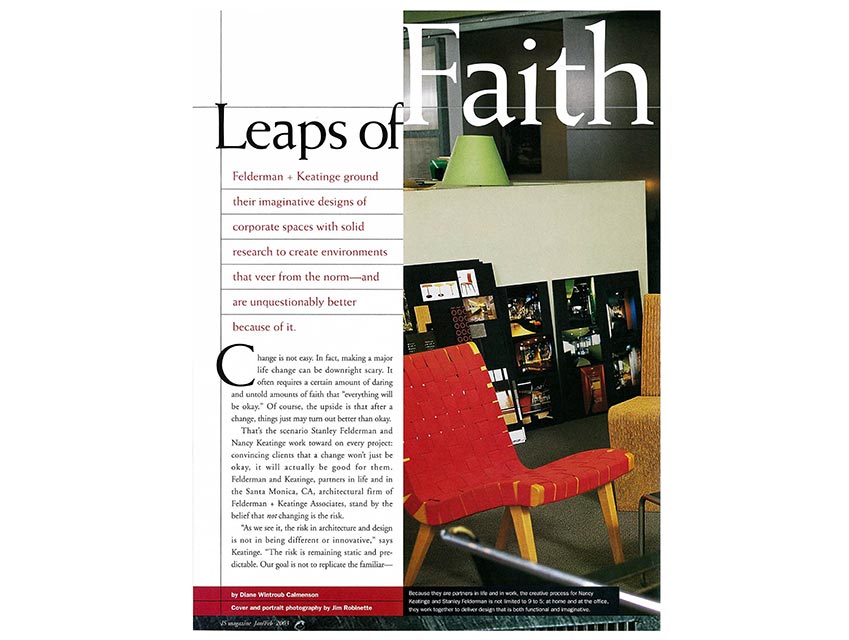 By Nancy Keatinge In News
Change is not easy. In fact, making a major life change can be downright scary. It often requires a certain amount of daring and untold amounts of faith that "everything will be okay." Of course, the upside is that after a change, things just may turn our better than okay.
That's the scenario Stanley Felderman and Nancy Keatinge work toward on every project: convincing client's that a change won't just be okay, it will actually be good for them. Felderman and Keatinge, partners in life and in the Santa Monica, CA, architectural firm of Felderman + Keatinge Associates, stand by the belief that not changing is the risk.
"As we see it, the risk in architecture and design is nor in being different or innovative," says Keatinge. "The risk is remaining static and predictable. Our goal is nor to replicate the familiar- comforting as that may sometimes be. Our goal is to provide a bridge to the future. With one eye on today and the other on tomorrow, we create spaces that meet all of our clients' immediate needs in terms of creativity and functionality, bur which will remain contemporary 10 or even 20 years down the road."
Despite the willingness to rake a risk in design ideas, Felderman and Keatinge only do so after exhaustive research char helps them understand whom a client really is. Thus, they are able to design spaces that are authentic and reflect a client's true culture. This adventurous attitude, combined with solid programming and business sense, makes a leap of faith seem less like a risk and more like a must take opportunity for Felderman + Keatinge's clients.