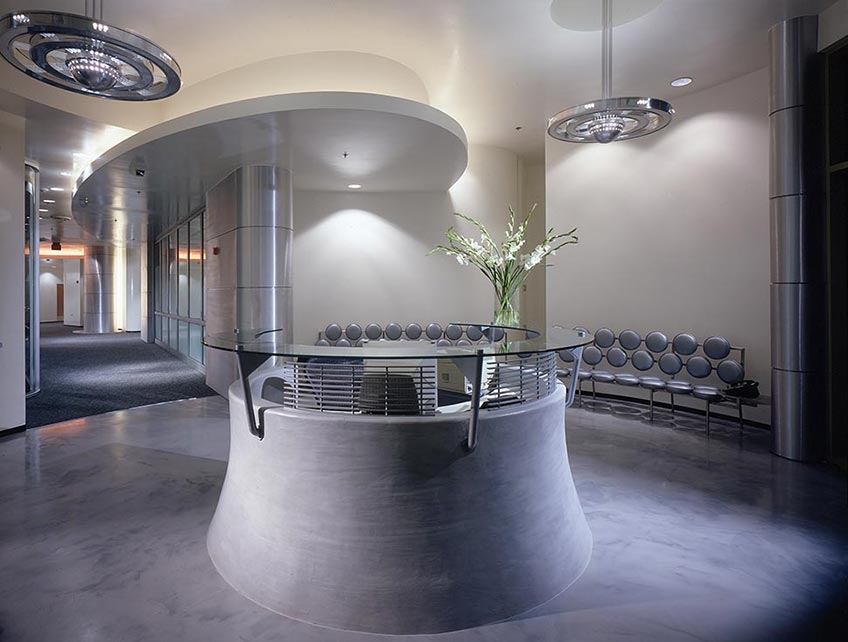 By Nancy Keatinge In News
When Universal Music Group, the world's biggest record company, left its longtime base in L.A.'s Universal City for three floors in hipper Santa Monica, the new office needed to showcase Universal's hip labels – Geffen, Interscope, Verve – and a rapidly growing E-commerce department while still presenting a reassuring sense of history. Felderman + Keatinge Associates, hired for the job, also hoped to redefine itself, moving beyond a reputation for ambitious, highly saturated color, typified by the firm's West Coast MTV headquarters, circa 1997.
The Universal project called for an elegant, Muted palette that wouldn't distract from the architecture and would appeal to corporate chiefs, label scouts, and Web workers alike.  Senior project designer Alex Suarez says that years of working in L.A. had already taught the firm an important lesson about entertainment: "Unlike with many other friends, such as law, you get a great range of personalities." What the team didn't anticipate was the feverish pace of the music business – the staff grew from 300 to 350 during the year that the offices were being built.